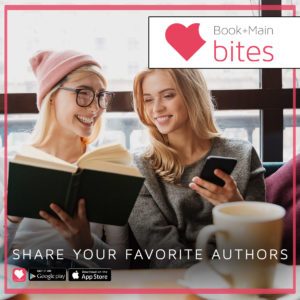 Connect with me over on the newest and hottest platform, Book+Main Bites!
I'm thrilled to be part of a fantastic group of authors who tested this new and AMAZING platform.
It's a place where romance readers can follow their favorite authors as well as find new books to love!
The site is content-based, which means no teaser or sale graphics.
It's 100% content in the form of excerpts, bonus scenes and more.
At Book+Main Bites you'll find snippets of my books, including excerpts and bonus material (called Bites).
You can follow my "Bites," like and share my content with your friends, and bookmark Bites when on-the-go.
Looking for a particular sub-genre? Book+Main Bites
Book+Main Bites makes it easy to find whatever it is you want, when you want it.
BONUS: It's FREE for Readers!!!
Get your free account now:  https://bookandmainbites.com