Social Media Fun, Fun, Fun!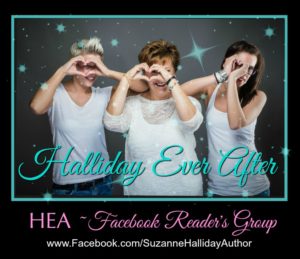 What a month we have had on HEA!
We opened the door to new members and wow did they come in. What started as a page to honour Suzanne's books and her as an Author has grown so quickly this past month!
So to all new members WELCOME!!! It's fantastic knowing that there are so many of you who love these couples and their stories. The interaction happening on HEA makes me smile. You ladies rock.
Birthdays have been celebrated, too many to list so happy birthday to all who celebrated in June.
Anniversaries were also celebrated. So yes some of us are living the HEA. Lol
We have had flash Friday giveaways each week, Suzanne has been amazing with the prizes. Below a list of winners for the month of June 2016.
June 3rd winner:
Lisa Vitous
June 10th winner:
Bonnie Carowan Abey
June 18th winners:           
Jamie Nicholson
Katrina Mari Swift
Natasha King
Gail Dreyer
Jody Cullers
Winner of the signed Justice Books:        Shelly Crawford Reynolds
Now we get to what we have all been waiting for! UNCHAINED.
To the ladies who received ARCS of UNCHAINED I was damn jealous.
Suzanne tortured us with a couple of teasers in June for Unchained, and to say I was desperately waiting for the next teaser is an understatement. This book delivered and she did not let us down. What Suzanne creates with these stories is simply magical. The reviews have been fantastic and this book has been well received in HEA.
So with that ladies, remember REVIEW REVIEW REVIEW! Only takes a couple of minutes and in doing so gets this book more attention as well as our fabulous Suzanne Halliday.
To the Dream Team of HEA, ladies you are all doing an awesome job and I can't thank you enough.